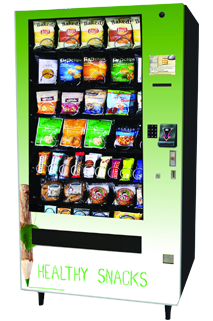 Traditional Vending
Healthy Vending Machines New York
The first and most familiar option for your breakroom is a traditional vending service. Healthy Vending New York will install a beverage and/ or snack machine with the healthy snack or beverage items of your choice. Your employees purchase them directly from the machines when they want a healthy snack to reenergize throughout the work day.
Healthy Vending New York Traditional Vending services offer:
Modern Equipment: customizable machine wrapping with sales tracking technology
Pay Any Way: cashless options including mobile payments and credit cards
Healthy Options: a large variety of health conscious foods and beverages
Quality Service: always with a smile ensuring you are fully stocked 24/7
Green Technology: Energy Star rated machines that produce 65% less energy consumption
Call or e-mail Healthy Vending today for a free no obligation quote.
(917)572-3671
info@HealthyVendingNY.com.