Technology
Healthy Vending Machines New York
Each one of our machines has a cellular-based monitoring system that allows us to track the activity of the machines in real time, and track product activity as well as cash accountability. It also alerts us of problems that arise in real time. This technology runs on DEX reporting.
With our "green" technology, our Energy Star rated machines are on energy efficient mode at all times. They are equipped with energy-saving LED lighting and motion sensors which equates to 65% less energy consumption.
Worry-free Guaranteed Product Delivery. On each of our machines, a laser beam actively monitors selections. If a chosen item doesn't drop into the tray and break the beam, the money paid for the item is automatically returned.
The Mind™. Imagine being able to view the nutrition facts of a snack before you purchase it. Now you can. Touch screen monitors are available that display nutrition facts on every item in the machine.

Credit Card Readers Available
. Our machines also accept debit and credit cards upon request.
Mobile Vending Request App. Healthy Vending's service is unparalleled with our cloud base mobile app service. Click here to learn more.

Vend Screen. Our vending machines incorporates an interactive touchscreen. Users can access nutritional information on products before purchasing. Customers get product information including nutritional data. They can use the payment method they prefer – cash, credit or debit, mobile payments such as Apple Pay and Google Wallet, and contactless payment, such as PayWave and PayPass, are all accepted.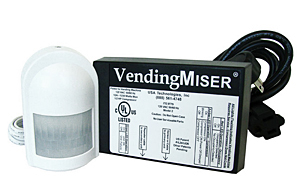 How Does a Vending Miser Work?
By monitoring both occupancy levels in the area around the vending machine and ambient temperate changes, the Vending Miser controller allows only enough power to keep the cooled product inside at the right temperature and have it ready to dispense when someone is in the vicinity. This decreases costly heat generating lighting, and denying compressor cycles to run when they are simply not required.
Call or e-mail Healthy Vending today for a free no obligation quote.
(917)572-3671
info@HealthyVendingNY.com