Looking for a healthy way to stay hydrated during this hot New York summer? Healthy Vending has you covered with its array of bottled water choices. Bottled water continues to grow in New York as consumers recognize the importance of staying hydrated during the day.
"Consumers' thirst for bottled water appears on track to persist in the years ahead," says Michael Bellas, chairman and CEO of the New York City-based Beverage Marketing Corp. (BMC), which researches beverage trends. "Changes in per capita consumption indicate enthusiasm for a product that consumers regard as a healthful alternative to other beverages. Americans upped their annual bottled water consumption by almost 11 gallons during the period 2004 to 2015. It went from 23.2 gallons per person in 2004 to 34 gallons in 2014."

During the same period, per capita consumption of carbonated soft drinks dropped by more than a dozen gallons, Bellas notes. "Per capita consumption of other major beverage categories, like milk and fruit beverages, also declined."
Reflecting a clear trend of consumers increasingly choosing healthy, convenient, zero-calorie bottled water, BMC reported that over the past five years alone, bottled water has increased its "share of stomach" of the overall beverage market from 14.4 percent in 2009 to 17.8 percent in 2014. "If current trends persist, bottled water could emerge as the largest beverage category by volume in the country by the end of the decade," says Bellas.
Many attributes that contribute to bottled water's undeniable appeal to U.S. consumers, says Chris Hogan, vice president of communications at the International Bottled Water Association (IBWA), based in Alexandria, Va. Among them are bottled water's healthfulness, convenience, and safety.
Bottled water's versatility makes it suitable for consumption at any time of day and in just about any setting. It doesn't need to be kept ice cold (like soft drinks or juice) or warm (like conventional coffee or tea).

Consumers' interest in beverages that deliver benefits above and beyond simple refreshment also contributes to bottled water's ascension in the beverage rankings. Amid worries about obesity, diabetes, and other health matters, bottled water's lack of calories and artificial ingredients, convenience, and refreshing taste attracts health-conscientious consumers.
Bottled water is regulated as a food product by the U.S. Food and Drug Administration (FDA). The FDA regulations governing the safety and quality of bottled water must be at least as stringent as the Environmental Protection Agency (EPA) standards for tap water. And, in some very important cases like lead, coliform bacteria, and E. coli, bottled water regulations are substantially more stringent, according to IBWA.
The bottled water industry is utilizing a variety of measures to continue reducing its environmental impact. All bottled water containers are 100 percent recyclable and many bottled water companies are already using recycled plastic in their bottles. Some are even producing 100 percent recycled PET plastic bottled water containers.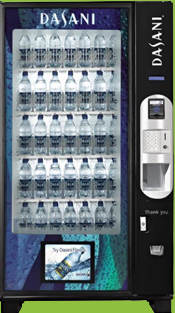 "Although it has occasionally been compared with tap water, bottled water in fact realized its prominence as a healthful choice for consumers seeking to reduce their consumption of other less healthy packaged beverages. While some consumers have turned away from regular, full-calorie sodas in favor of their diet versions, many others transitioned to bottled water instead," says Bellas.
"Bottled water has the smallest water and energy use footprint of any packaged beverage," adds Hogan. "The results of a 2014 benchmarking study show that the amount of water and energy used to produce bottled water products in North America is less than all other types of packaged beverages. On average, only 1.32 liters of water (including the liter of water consumed) and 0.24 mega joules of energy are used to produce one liter of finished bottled water."

For more information about healthy snack and beverage options, contact your New York City vending partner, Healthy Vending, at 917-572-3671.